Tricycles & Motorelas
The Tricycle is the Philippine rickshaw. A motorbike or sometimes a bicycle with an attached sidecar. If it is a bicycle, then it is called a pedicab! They are decorated like the jeepneys and gadgets are attached here and there. There are various styles of tricycles.
Each region has its own type. On Panay Island there are two types: the Aklano type with 2 facing benches in the rear and 1 bench in front. They offer officially 9 passenger places. The Iloilo type has two benches back to back and a small seat in front. They also transport up to 9 people. The smallest tricycles can be found in Naga City. It is impossible that two normally built caucasians can ride together.
Somehow different is the Motorela of Mindanao, Camiguin and parts of Bohol. The passenger room is built around the motorbike and has two facing benches and a seat on each side of the driver.
Tricycles Fares
Tricycles are fine for in-town rides or the short distance from bus terminals to your downtown hotel. The fares are fixed by the government and should be displayed in the tricycle. The standard fare is 2 pesos to start and then 1 peso every 300 meters. These fares apply when you tell the driver, that he may pick up other passengers. If you forget to do so, he drives you directly to your destination and you have to pay 9 times the price of one fare, because you hired the tricycle exclusively. Usually count PHP 10 for any ride inside the town center.
If you are a group, you may consider to hire a tricycle for a day to do sight-seeing. The driver then puts a sign on his windshield saying:"Family use" and you won't be stopped by other travelers. A tricycle costs PHP 100 to 200 per hour.
Tricycle Safety
Tricycles are rather safe. They do not drive very fast and when there is a collision, it is not too serious. But beware, when you are seated in the back, protect your head with your hands. When there is a hole in the road or the concrete road turns into mud, the tricycle will bounce and your head bangs against the roof.
We recommend not to take tricycles at night on country roads. Usually their lights do not work and when there is a jeepney crossing, usually also without light, the collision may be deadly.
An Aklan tricycle in Kalibo.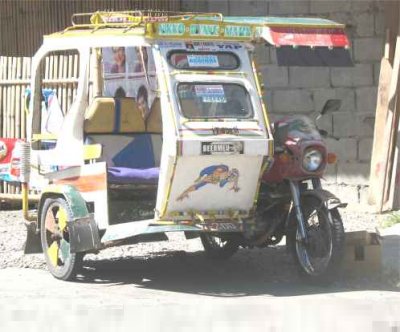 A motorela in Cagayan de Oro.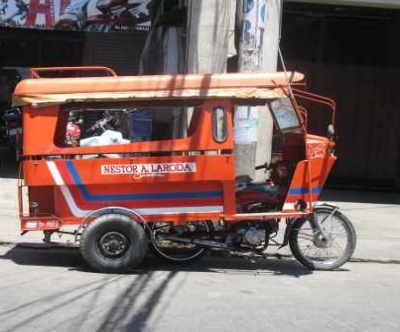 Fully booked.