The currency in the Philippines is the Philippine peso (or piso). ISO standard code is PHP. The peso is divided into 100 centavos (or centimo).
Since December 2010 the Philippine Central Bank (Bangko Sentral ng Pilipinas) has replaced the old banknotes. The Central Bank first announced that the old banknotes aren't valid anymore since January 1, 2017.
Be careful! There are still people around who try to give you old bankontes.
Current are coins of 1, 5, 10, and 25 centavos and 1, 5 and 10 pesos, and bank notes of 20, 50, 100, 200, 500 and 1000 pesos.
Be careful with the 20 and 50 peso notes. They are nearly of the same color and in a batch of 50 peso notes you may find some of 20 pesos. Your money changer (see below) did win 30 pesos with every piece of 20 pesos smuggled in the batch.
The new 100 pesos notes can be blue or slighly violet.
2018 the Philippine National Bank issued completely new coins. Both coin sets are valid and are circulating. The old series had different colors but the new ones are all of the same color. This provoked in the beginning many errors. A friend paid the jeepney fare with an old piece of 10 pesos. He got 2 pieces of 5 pesos back. The jeepney driver simply still was used to the old brass 5 peso coins. There is no interest to counterfeit coins because of their rather low values.
1 centavo, 5, centavos, 25 centavos, 1 peso, 5 pesos and 10 pesos
Old centavo and peso coins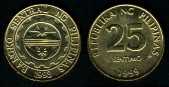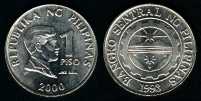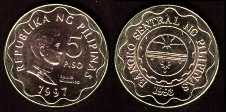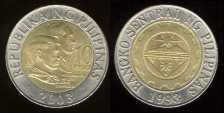 New centavo and peso coins